The search for cleaner flying
Added by Keith Bradshaw on 28 November 2021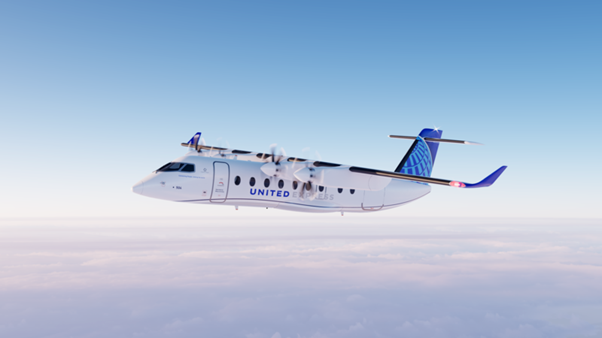 Ever since Orville Wright flew sitting in front of a 12 HP engine back in December 1903, aircraft have been powered by polluting internal combustion engines. Following on from COP 26 at Glasgow we take a look at how aviation is intending to reduce its carbon footprint in the coming years. The United Nations has stated that aviation results in 2.4 per cent of the world's CO2 emissions which is equivalent to the combined annual CO2 emission of the world's 129 lowest polluting countries. The airlines' governing body the ICAO have stated a target of 50 per cent CO2 reduction in aviation by 2050. Another governing body IATA have calculated that from now to 2050 21.2 Gigatons of CO2 will be produced by aviation. With fuel accounting for 20-25 per cent of airline costs it is in the airlines' interest to reduce their fuel consumption and hence their CO2 output. There are several main routes of interest the industry is taking, from the radical design of new aircraft to making airline crew uniforms from re-cycled plastic bottles, so let's run through them.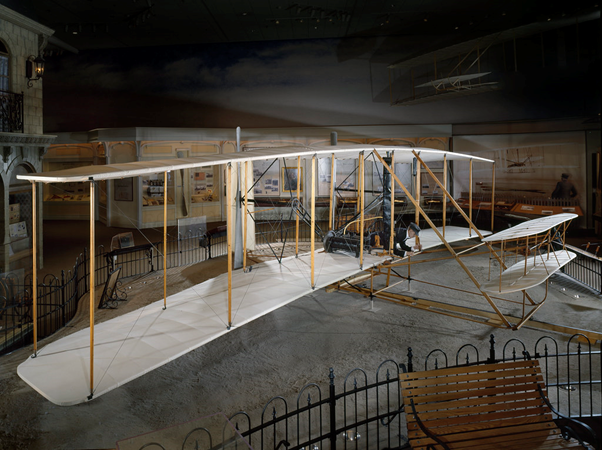 SAF (Sustainable aircraft fuel)
Sustainable aircraft fuel is a mix of conventional Jet A1 fuel and some sort of ethanol-producing bio mass such as cooking oil, farm waste, plant oil or chemical waste from industry such as gas from steel mills. It is not 100 per cent carbon free due to Jet A1 being part of the mix but it produces around 75 per cent less emissions than standard fuel. The big sales point is that can be used right now. Present-day aircraft do not need any modifications to use the new fuel. It does however cost 4-6 times more than conventional Jet A1. Companies such as Rolls Royce and Shell, Boeing and SkyNRG have teamed up to make better use of this fuel. Worldwide production is being stepped up as fuel companies see an increased demand for this blend of jet fuel. LanzaTech are planning a large SAF production facility in South Wales producing 330 million litres of SAF each year and Shell is planning on producing annually 2 million tonnes of SAF by 2025, this will account for 10 per c dent of its global fuel sales.
Hybrid
Several aircraft are already flying as test vehicles for a hybrid option using part electric part conventional piston or jet power. Ampaire have used a Cessna 337 which was normally powered by two piston engines and have replaced one with an electric motor giving 30 per cent less carbon emissions than the original aeroplane. The aircraft has been in the UK carrying out test flights over some of the shorter air routes in Scotland and the west country.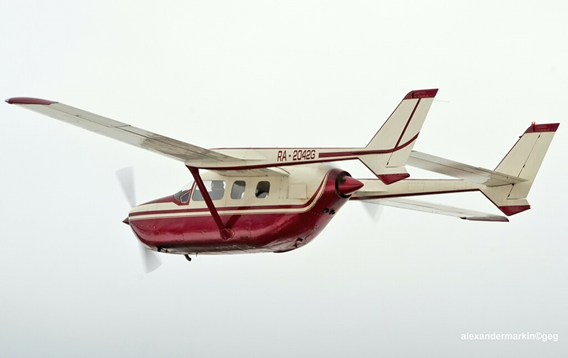 A Russian three-engine jet aircraft, the YAK 40, has had its middle engine removed, the intake blanked off and a superconductor electric powerplant driving a propellor fitted in the nose. The high temperature super conductor unit helps reduce the size and weight of the electric drive components.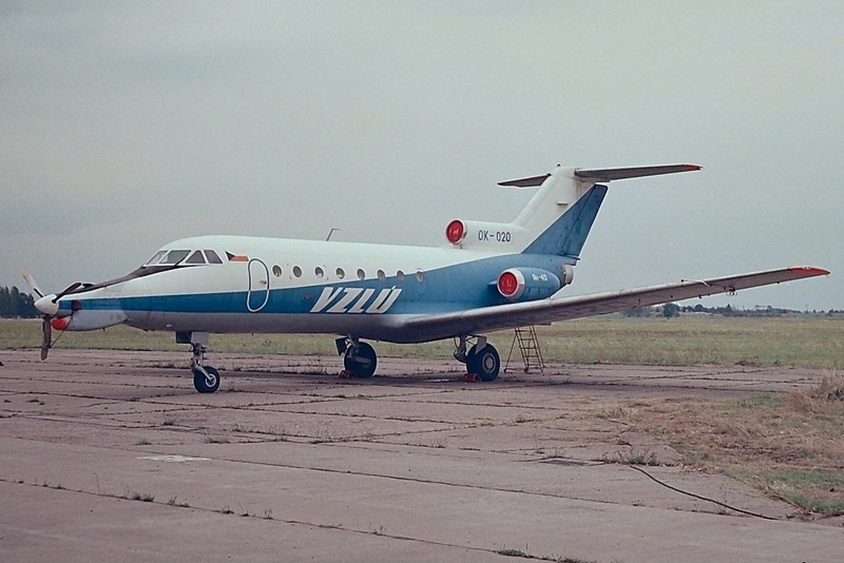 These examples of hybrid power are already flying but others are still at the design stage. Starting from a clean sheet of paper allows companies to follow more radical routes. One of these is Duxford based Faradair who have designed a triple-winged 18 passenger hybrid aircraft. The rear mounted ducted fan is driven by two electric motors powered by a 1Megawatt generator derived from the Airbus A350 APU. How the generator is fuelled is the clever bit. The prototype, which is expected to fly in 2024, will be run off SAF but the design allows for Hydrogen cells or new lightweight batteries to be slotted in to drive the generator unit.
Electric power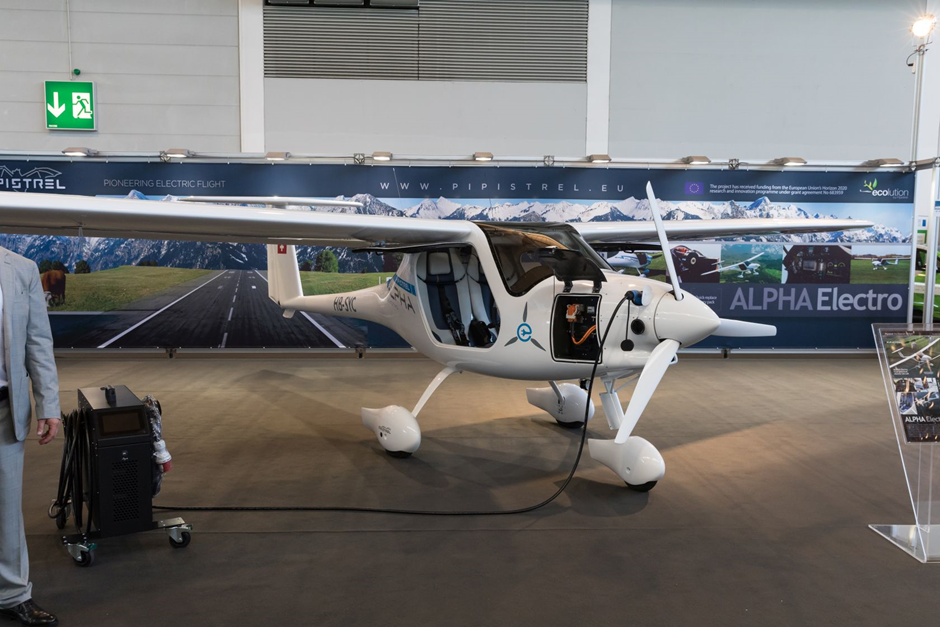 Electric powered aeroplanes are not new, the first electric powered manned aircraft took to the sky in 1973 following the introduction of lighter more powerful NiCad batteries that replaced the heavy conventional lead-acid ones. The Militky MB-E1 was based on an Austrian Brditschka HB-3 motor glider. The Pipistrel Velis electro microlight was the first certified pure electric aircraft, gaining its certificate in June 2020. This two-seat aeroplane uses a 57.6 Kw electric motor and its batteries give an endurance of 50 minutes flying, ideal for training. A number of companies are already committed to the pure electric power route using batteries or a SAF powered generator to provide the power for the electric motors.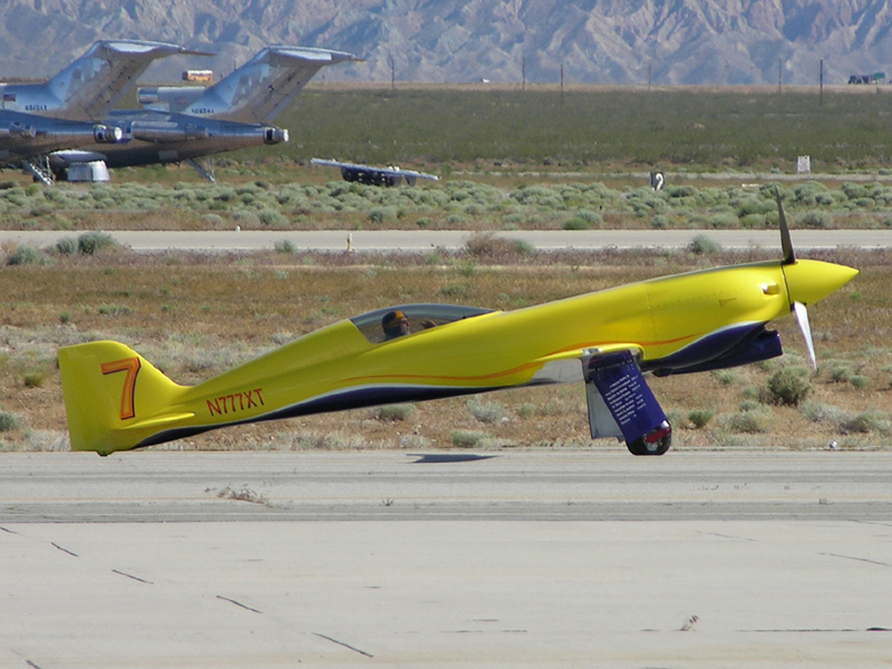 Rolls Royce and others have teamed up with Gloucester-based company Electoflight to make an electric aircraft capable of taking the speed record which presently stands at 213mph. The Electroflight NXTE uses a 400 KW motor giving a power output of 500 HP which should make the plane capable of over 300 mph. It uses a state-of-the-art high density battery which can provide sufficient power for the plane to fly London to Paris on one charge. It had its first flight in September 2021. On 16 November it flew over a course of 3 Km at an average speed of 345.4 mph to take the world speed record for an electric plane. During test flights it reached a top speed of 387.4 mph.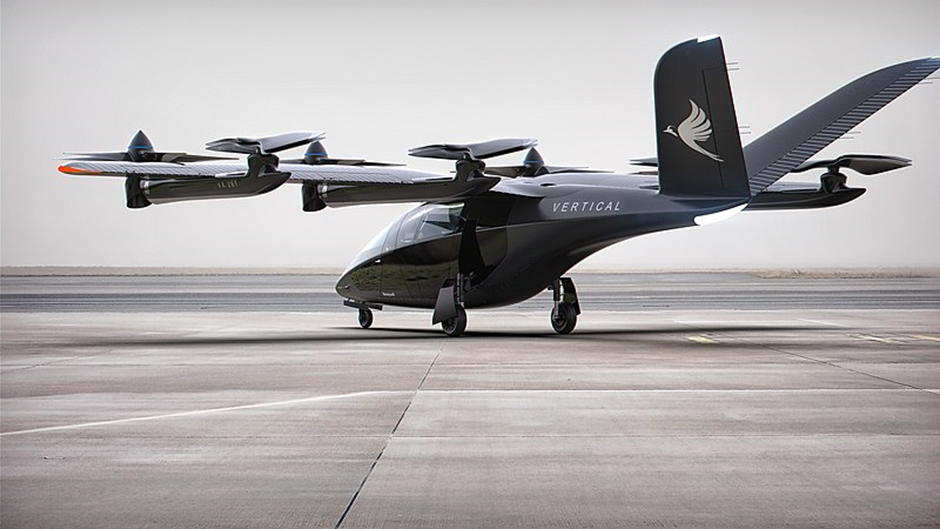 Another British company is Bristol based Vertical Aerospace who are looking to fly their VA-X4 eVTOL aircraft in the near future. This all-electric four-engine vertical take off and landing aircraft is aimed at city centre to city centre routes and has got the airline industry very excited. American Airlines has orders in for 250 aircraft, Virgin has 150 on order and lessor Avolan has signed for 310 examples. In 2019 Cranfield University started working on an all electric Britten Norman Islander for flights up to an hour. Loganair and its short Scottish routes would be the initial target for this aircraft. Swedish company Heart Aerospace are designing an all electric 19 seat, four engine commuter aircraft called the ES-19., with a range of 250 miles. United Airlines have already placed a pre-order for 100 examples.
Hydrogen power
Liquid hydrogen power cells are considered to be the way forward for medium to long distance airliner flights. The only emission from one of these units is water. ASL freight airlines and Air Nostrum have entered into partnership with Universal Hydrogen a company who is planning on making hydrogen power available for fitment into the ATR-72 aircraft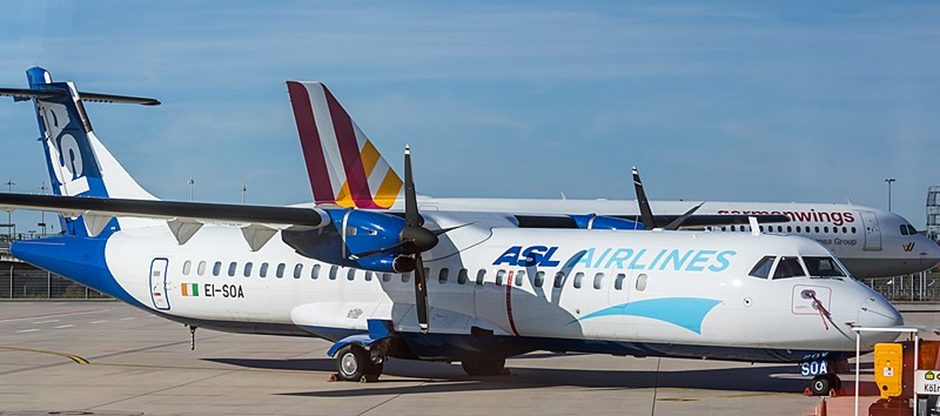 Weight
A simple way to reduce emissions is to use less fuel by carrying less weight. I remember a view put forward by British Airways many years ago showing how much extra fuel would be burnt on a 747 over its lifetime if a sachet of sugar had been dropped behind the galley and never retrieved, an extreme example maybe but there was a good point, any extra weight uses extra fuel and hence gives rise to greater emissions. Airlines are investing in lighter food trolleys, slimmer and lighter seats using composite materials instead of metal, flight deck paper manuals replaced with iPads and only loading the required amount of food/water.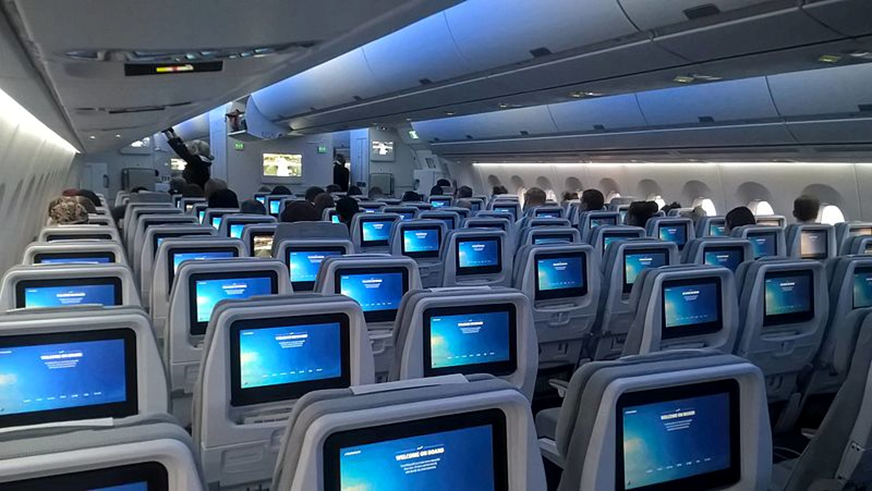 Modern aircraft design uses much more plastic and composite material in the cabins against the previously used wood and aluminium. Even replacing the fluorescent cabin lights with LED versions saves a lot of weight when you consider each fluorescent tube unit needed a heavy ballast unit for it to work. Flight decks no longer have heavy analogue instruments and in most cases even CRT displays now use LEDs instead making them much lighter. Digital fly-by-wire systems replace the heavy control rods, wires and pulleys. Aircraft engines such as those on the Dreamliner no longer give up air to feed the air conditioning system this is supplied by electric compressor units allowing the engine to use all its intake air to keep it as efficient as possible.
Aircraft design
All the new designs using electric motors as the final drive are propeller-driven or ducted fans, however Brazilian constructor Embraer are working on the design for a new turboprop aircraft that can fly using conventional SAF but can be converted easily to liquid Hydrogen power. The turboprop is considered the best form of propulsion for short to medium distances. Hydrogen is said to be the best alternative to SAF for medium and long distance routes, batteries are just not capable of giving the range. They hope to have the new aircraft's first flight sometime in 2022 with entry into service in 2027. New more aerodynamic designs such as blended wings and a double bubble fuselage according to Airbus can save 20 per cent on fuel consumption. Airbus are designing a blended wing passenger aircraft that will be powered by liquid hydrogen called the ZEROe, capable of carrying 200 passengers over1240 miles. EasyJet have teamed up with Wright Electric to produce an all electric single aisle airliner. Wright have just announced they have designed and built a 2 Megawatt electric motor.
Newer aircraft can score over their older siblings due to gradual improvements in aerodynamics and engine design. British Airways has just flown an Airbus A320neo on a test flight from London to Glasgow using SAF to fuel the engines, one engine taxiing on the ground and optimal routing provided by ATC. This resulted in a 62 per cent less CO2 being emitted than a similar flight using one of their original A320 aircraft back in 2010. In the past seven years American Airlines have retired 650 older jets to help reduce their fuel costs and emissions. Simple things like winglets reduce drag and fuel consumption.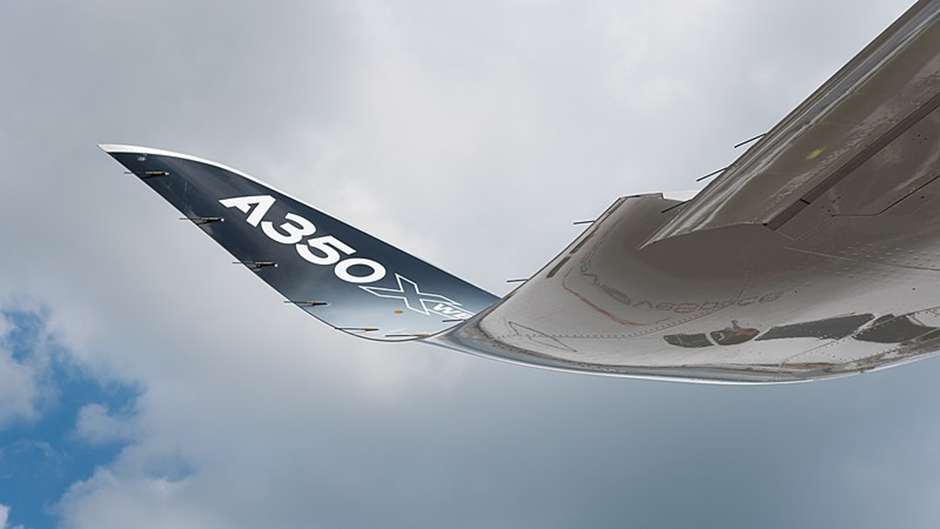 Engine design
Rolls Royce are developing their Ultrafan engine which they hope will be available by the mid 2020s. It will have a fan diameter of 140 inches and will offer 25 per cent lower fuel burn that early generation Trent fan engines with a 95 inch fan. The present day Trent XWB for the A350 has a 118- inch diameter fan. With the fan producing around 80 per cent of the thrust of a large fan engine, with a larger fan you can either have more thrust or more importantly the same thrust at lower power settings on the core engine thus reducing fuel burn and CO2 output. CFM International are developing their RISE engine and de Havilland Canada have teamed up with Pratt and Whitney to fit a hybrid engine into a Dash 8.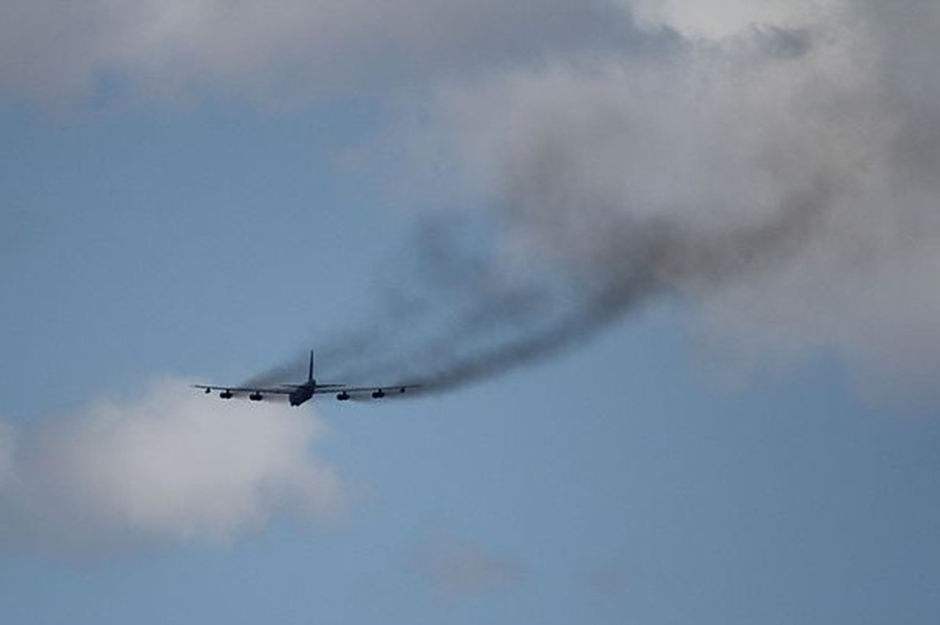 Emissions can also be reduced by replacing old fuel heavy and dirty engines with something more modern. If you have ever seen a B-52 fly you will know it leaves eight trials of smoke behind it. The USAF has awarded Rolls Royce the contract to re engine the bombers with a version of their F-130 Turbofan engine. This contract is worth $2.6 billion
Carbon offset
Many airlines already use carbon offsetting to show their green credentials. This involves paying to have trees planted to offset the CO2 produced. Although it helps the overall picture it makes no impact on the amount of CO2 produced. Using this scheme Leicester Aero Club has become the first carbon-neutral flying club in the UK. On a lighter note, but still part of an effort to offset carbon costs, EasyJet have started supplying their crews with new uniforms made out of re-cycled plastic bottles. They estimate this will save the disposal of 2.7 million plastic bottles over a five-year period.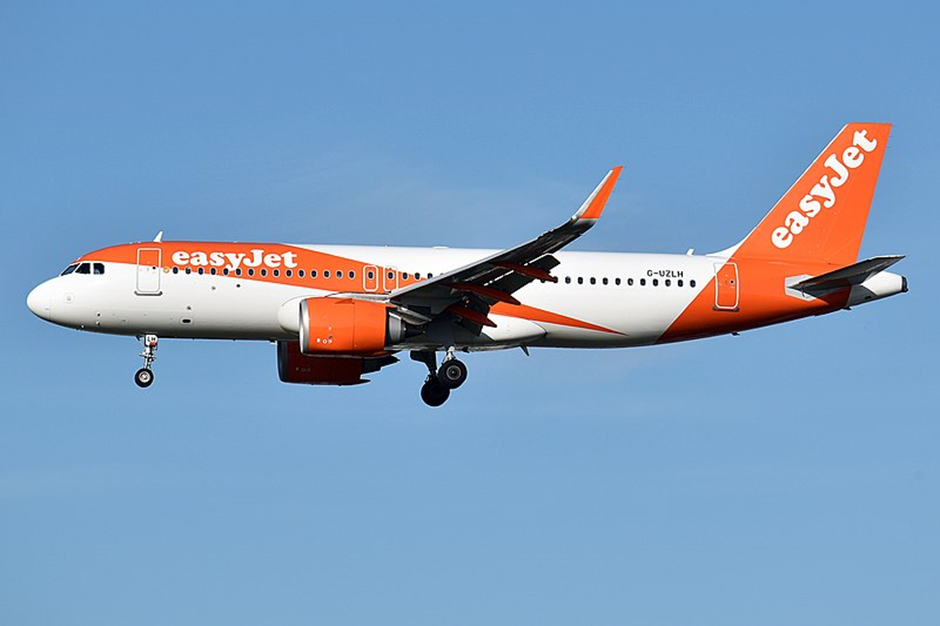 Flying procedures
Continuous Descent Operations require the aircraft to select a power setting at the top of descent and then continue at that power setting all the way down to the runway in a smooth descent. This requires co-ordination with ATC. The constant throttle setting saves fuel and reduces noise. Copenhagen airport have been trialling this system for both take-offs and landings and estimate they have saved 3,150 tons of CO2 over a year. Airbus are considering trails for aircraft to fly closer together to help each other through the air in a similar way to migrating geese, this is called wake energy retrieval.
Summing up
Aviation is broadly following the same path as taken by the car industry some years ago. Firstly we went from leaded to unleaded petrol, aviation is going from Jet A1 to SAF. Then Hybrid cars were introduced; aviation is producing hybrids using fuel supplied generators powering electric motors driving propellers. Finally as we have all-electric cars, aviation is looking at all-electric aircraft powered by batteries or hydrogen. In the short to medium term long-haul airliners will continue to burn SAF because electric power is not yet advanced enough for long-range flights. However short-haul airliners flying less than an hour or so may well change over to hybrid or all-electric power sooner than we think. In the USA there are large numbers of commuter aircraft making short hops every day feeding into hub airports. These are the type of aircraft that are ripe for replacement by electric power hence the huge orders placed by airlines such as United and American for electric aircraft that have yet to fly.
All in all these are exciting and technically challenging times but when you consider powered flight only came about less than 120 years ago look what the aviation industry has already achieved! Hopefully it will continue to make huge steps forward and will be able to achieve the targets for 50 per cent reduction in CO2 output by 2050.
'till the next time Keith